Biography of Steven Wayne Donahue (1944-2013)
To accompany August 2017 Photo Donation
The Burton Historical Collection of the Detroit Library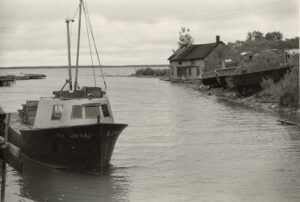 Steven Donahue was born in Harbor Beach, in the "Thumb Area" (pictured) of Michigan in 1944, but spent most of his childhood living on a farm on Filion Road outside Port Hope, Michigan. His dad was a food chemist at Huron Milling Company (Later called Hercules) and did weekend farming. As a kid Steven spent a lot of time in nature around the farm and the 100 acres of woods nearby.
In 1963 Steven went to Chicago to study photography at the Ray Vogue School of Design, but his interest in photography began when he was a kid trying to take pictures of the stars through his telescope. After failing to get his pictures printed through the local drug store, he asked the local portrait photographer to teach him basic darkroom techniques. That's how it all began.
After graduating from Ray Vogue he took classes at Roosevelt College, eventually landing a job at Maselli Studio as a food photographer for magazines. During this period he met several musicians and learned to play blues harmonica from Corky Siegel of the Siegal Schwall Blues Band. He loved listening to the blues throughout his life.
He was drafted in 1967 and served as an MP at Sandia All Services Base in Albuquerque until 1969. After returning to Chicago in late 1969 he was hired by two World War II veterans to be a custom color printer for AnRo Color Service, which allowed him to use the darkroom after hours and he spent many hours printing his own black and white photographs.
Steven returned to the family farm from Chicago and lived there with his Chicago-born wife from 1972 – 1979 while his recently retired parents served in VISTA and the Peace Corps.  During that period he opened Steven's Studio in Harbor Beach where he specialized in weddings, portraits, and high school pictures and printed his own black and white photographs.  His silver gelatin prints from that period are very rich.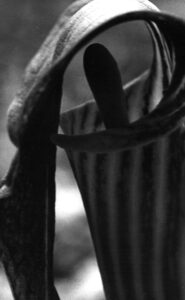 He saw the Thumb with new eyes when he returned from Chicago and spent much time intensively photographing nature (Jack in the Pulpit, pictured), small towns, farms, winter, water, ice crystals and the many vestiges of bygone eras. While he lived in Michigan, his work was shown in Port Huron and Lansing.
In late 1979 he and his wife moved to Albuquerque, New Mexico. In 1985 he opened Central Photographic, a custom black and white lab, gallery, and studio and worked there until his death in 2013. Here too, he carved out time to do his own work which included landscapes, people, studio experimentation with dancers and moving lights, and fantastical hand colored creations. Through the years he taught many people darkroom and studio techniques and mentored many kids and people with disabilities.
To view work created in and around this area, please visit, Detroit Public Library.
Chronology
July 28, 1944
• Born in Harbor Beach, Michigan.  Population 2,500?
• Located on Michigan's thumb surrounded by Lake Huron and Saginaw Bay.
1950 -1962
• Lives on 160 acre farm chemist father bought to do weekend farming.  Dilapidated 1885 house fixed up by dad.  Located 2+ miles from Port Hope, MI, 8 miles from Harbor Beach.
• Property has 100 acres of woods, where Steven starts taking pictures through his telescope and color pictures in the woods.
1962-63
• Port Huron Community College, Port Huron, Michigan. SDS starts there.
1963-67
• Moves to Chicago to attend Ray Vogue School of Design and later, Roosevelt College.
• Meets people in the arts, takes blues harmonica lessons from blues harmonica player, Corky Siegel (Siegel Schwall Blues Band). Really gets into the Chicago blues scene.
• Works at Maselli's Studio shooting food ads for magazines.
1968-69
• Drafted into army during Vietnam War, but sent to Albuquerque, NM. Becomes MP and staff photographer. Lots of burial details on Indian Land and OMI photos of suicide victims.
1970-72
• Returns to Chicago.  Works at ANRO Color Lab as a custom color printer and then at another color lab.  Work is mainly for magazines. Is allowed to print his own work after hours.  • • • Meets and marries Paula Stern (also in the arts with friends in dance and music.) Continues taking photo classes at Illinois Institute of Technology.
1972-79
• House sits family farm. Opens Steven's Studio in Harbor Beach and does lots of his own black and white photography of the area… study of the Thumb area… towns, people, woods, farms, old machinery, winter, and water shots. Has show in Lansing…"Past Its Prime"
• Wins 1st place in Port Huron/Canada art show…"Water Lillies"   Association with local artists and others.
1979-2013
• Moves back to Albuquerque. Custom Color printer for Kurt's Camera Corral and Herkenhoff Engineering firm.
• Opens his own studio "Central Photographic" in 1985. Studio, Darkroom Services (custom black and white printing), starts an art co-op, rents darkrooms, mentors students, and teaches classes. Lots of pro-bono work for non-profits, shoots other artists' work and prints other photographers' work for them.
• Makes negatives and prints of historic photos from glass plates for the Albuquerque Museum.
2000 – 2005
• Three hip surgeries… so worked in studio rather than on location.
• Portraits, Mythology, Homage to Artists, Nudes and Abstract Nudes during this period… and continues in that vein until his death in 2013.
• 2012 moves Central Photographic to Adams north of Zuni. Custom Digital printer next door… so begins experimenting with digital photographs.
2013: Death in Albuquerque, New Mexico